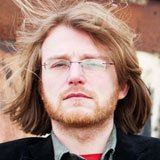 Hello, my name is David Stevenson. I'm a London-based freelance illustrator and stop-motion animator. I'm adaptable, flexible and I work well with tight deadlines. Excellent with Photoshop, InDesign, Final Cut Pro, iStopmotion. But not Microsoft Word - there I just obey whatever the paperclip tells me to do.
Past clients include Warner Brothers, Amnesty International, Orange and JibJab. They've all seemed happy, so yay!
I also co-write the popular internet newsletter b3ta, with Mr Rob Manuel.
Anyway, if you need something drawing, I'm your man. Drop me a line!